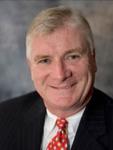 Patrick J. Costello
Partner
Boston, Massachusetts
Patrick J. Costello is a partner with Louison, Costello, Condon & Pfaff, LLP , where he specializes in the areas of general municipal law, litigation, construction, real estate practice, land use, eminent domain, and local taxation. Mr. Costello's practice focuses on the representation of cities, towns and other entities in land use, construction, real estate and tax assessment/collection matters. He currently serves as Town Counsel for the Towns of Mashpee, Blackstone, Chatham and Foxborough. He also provides special counsel services to approximately 60 other cities, towns and districts across the Commonwealth. He also represents private developers, contractors, construction managers and individuals in government permitting, contract and licensing proceedings.
Throughout his 30 year career, Mr. Costello has litigated matters at all levels of State and Federal Courts in Massachusetts, and he frequently appears in administrative proceedings before the Massachusetts Appellate Tax Board, Department of Environmental Protection and other State regulatory agencies. He has represented and appeared before dozens of municipal Planning Boards, Zoning Boards of Appeal and Conservation Commissions throughout the Commonwealth. Mr. Costello has lectured and provided seminars on various public construction topics and tax assessment/collection topics for professional municipal officers' associations. He has been a faculty member at the annual Massachusetts Treasurers and Collectors Association School for the past 20 years and is a regular speaker at regional Treasurers and Collectors Association meetings.
For help with your specific legal issue, please call us directly at (617) 439-0305.
Areas of Practice:
Administrative Law
Construction Law
Government Agencies & Programs
Government Contracts
Insurance Law
Litigation & Appeals
Local Taxation
Public Construction Law
Real Estate Law
State, Local & Municipal Law
Education:
Suffolk University Law School, Boston, Massachusetts, 1984 (J.D.)
Holy Cross, Worcester, Massachusetts, 1979 (B.A.)
Published Works:
"Bankruptcies and Local Tax Collection; The Role and Responsibilities of the Tax Collector", TCTA Criterion (Tax Collectors and Treasurers Association of New Jersey, Winter, 1994
"Procedure for Establishment and Appeal of Equalized Valuations"., MAAFO Journal, March, 2007
Representative Cases:
Cady v. Marcella, 49 Mass. App. Ct. 334, 729 N.E. 2d 1125 (Mass. App. 2000)
Peobody Const. Co., Inc. v. City of Boston, 28 Mass. App. Ct. 100, 546 N.E. 2d 898 (Mass. App. 1989)
City of Boston v. James, 26 Mass. App. Ct. 625, 530 N.E. 2d 1254 (Mass. App. 1988)
City of Boston v. Montessori Family Centre, Inc., 26 Mass. App. Ct. 961, N.E. 2d 1324 (Mass. App. Ct. 1988)
Macone v. Town of Wakefield, 277 F. 3d 1 (1st Cir. 2002)
Chiara v. Dizoglio, 6 Fed. Appx 20, 2001 WL 288613 (1st Cir. 2001)
Diaz v. City of Fitchburg, 176 F. 3d 560 (1st Cir 1999)
Telecorp Realty, LLC v. Town of Edgartown, 81 F. Supp. 2d 257 (D. Mass. 2000)
Chiara v. Dizoglio, 81 F. Supp. 2d 242, 17 NDLRP 127 (D. Mass. 2000)
Chiara v. Dizoglio, 59 F. Supp 2d 193, 16 NDLRP 87 (D. Mass. 1999)
Board of Assessors of Billerica v. Middlesex Retirement System, (Appellate Tax Board 2007)
Professional Associations and Memberships:
Massachusetts Bar Association – Member
Massachusetts Collector's and Treasurer's Association – Member
Massachusetts Town Counsel and City Solicitor's Association – Member
Seminars / Classes Taught:
Massachusetts Collectors & Treasurers Association (MCTA), Annual Staff School: Faculty/Instructor
Past Employment Positions:
Kopelman and Paige, P.C., Boston, MA, Associate, 1990 – 1994
Kopelman and Paige, P.C., Boston, MA, Principal, 1995 – 1999
City of Boston Law Department, Boston, MA, Assistant Corporation Counsel, 1985 – 1990